I just finished a new piece for strings which was premiered on February 22 by Sonic Feet, an ensemble specialising in the performance of works that celebrate the history of certain buildings and spaces with repertoire drawn from the time of their construction. For this project, the ensemble presented pieces that were chosen specifically for a performance at the La Perouse Museum, which was originally an early cable station built between 1881-1882.
Led by violinist/violist/conductor Thomas Talmacs, the group presented a varied performance at the museum, including music written during the lifetimes of important scientists involved with the development of telephony, French repertoire from around the time of Comte Laperouse and pieces contemporary to the construction of the building.
I was commissioned by the group for a new work inspired by the local surrounds of Randwick City Council where I grew up. My piece, Beachscapes, is a study on Coogee Beach, a place I used to explore a lot as a kid. I wanted to delve into some older descriptions of the area and I came across author and poet Henry Kendall's (1839-1882) work simply titled, Coogee. In the text he hones in on the wildness of the place: it's turbulent seas, the angular rock faces, the violent storms. Check out the first two stanzas:
Sing the song of wave-worn Coogee, Coogee in the distance white,
With its jags and points disrupted, gaps and fractures fringed with light;
Haunt of gledes, and restless plovers of the melancholy wail
Ever lending deeper pathos to the melancholy gale.
There, my brothers, down the fissures, chasms deep and wan and wild,
Grows the sea-bloom, one that blushes like a shrinking, fair, blind child;
And amongst the oozing forelands many a glad, green rock-vine runs,
Getting ease on earthy ledges, sheltered from December suns.
Often, when a gusty morning, rising cold and grey and strange,
Lifts its face from watery spaces, vistas full with cloudy change,
Bearing up a gloomy burden which anon begins to wane,
Fading in the sudden shadow of a dark, determined rain,
Do I seek an eastern window, so to watch the breakers beat
Round the steadfast crags of Coogee, dim with drifts of driving sleet:
Hearing hollow mournful noises sweeping down a solemn shore,
While the grim sea-caves are tideless, and the storm strives at their core.
– Henry Kendall
An amazing photo of Coogee by Charles Bayliss in 1880 captures a similar tone: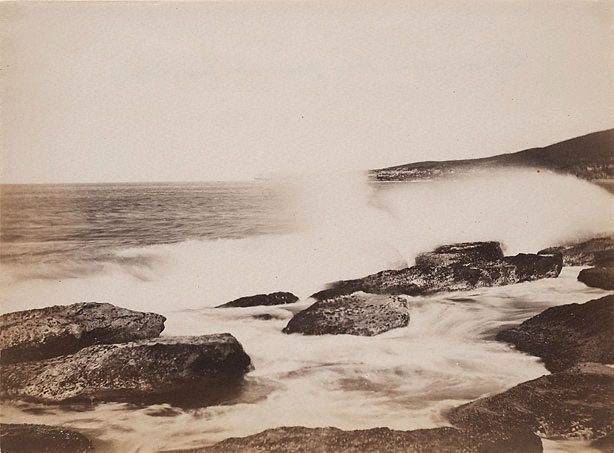 For me growing up, time spent at Coogee Beach was a cheery, sun-drenched hive of activity so it was interesting getting in the minds of these artists and seeing the place through their eyes.
The piece I wrote for this performance, entitled Beachscapes, aimed to marry these perspectives together: turbulent, stormy wave-like material born out of more reflective moments, alternating with lighter more hopeful tones.
Below are some snaps from the premiere. Recording coming soon…